I'm learning that waterfalls, in whatever shape, size, or form they take, are all beautiful in their own way. Blue Hole Falls, in Elizabethton, TN, is one of the places that began this lesson. Not because Blue Hole Falls aren't classically pretty, but because of the three other waterfalls you'll find while you're there.
The Blue Hole Falls gets its name from the blue-ish color of the water, and the seemingly bottomless hole that it flows into.
In reality, this hole is only about 15 feet deep and it's a popular place for locals to go swimming in the summertime.
If you don't want to swim (or if you love doing cold plunges), a warm mid-February day is, in my humble opinion, a more perfect time to go. There are generally very few people on the trail this time of the year, which means less waiting to get through narrower pathways, less people that will possibly end up in your photos, and more time to sit and enjoy the peace and quiet. In addition, most of the bugs, wildlife, and danger noodles aren't out and about yet, because it is still cold-ish. (Not seeing any danger noodles – a.k.a nope ropes or snakes – nearby is always a happy thought for me.)
The trail to the falls is around .5 miles and most of it is fairly easy. It's short, and there is a little bit of an incline to it, but it's well maintained so most people will likely have no problem. The one part that I would say is no joke are the stairs.
(Read my Guide to How I Rate Trails to learn more about what "fairly easy" and "no joke" means.)
The fact that there ARE wooden stairs was nice, but I think they were created for really tall people. And being the 5'2 person that I am, they were very difficult for me to go up and down. According to the other people we passed, they were just as difficult for them as well.
Other than that, the biggest thing you have to watch out for is the exposed tree roots, which really aren't that bad. I enjoy seeing them sprawled out in all directions.
I think it's worth mentioning here, if you can avoid walking on and around tree roots then you should. It's hard to do here, because they cover pretty much the entire path, but continuous foot traffic on and around a tree's roots can actually harm the tree as time goes on. It compacts the soil around the roots which makes it harder for the roots to get oxygen, water, and nutrients. This in turn affects the health of the tree as a whole.
If you're short on time, and want to go straight to the Blue Hole Falls, go left from the parking lot and down the hill. But, I would highly recommend allowing a little bit of extra time if you can, and going right from the parking lot and UP the hill.
Going up first instead of down will allow you to see the first two of three other waterfalls that are in this small area. The first of which is just a short walk up the hill.
Because it's smaller, it may not be very prominent if the weather has been on the dry side, but it's worth the extra steps to see it. What fascinated me the most, was following the water down the hill from this point, and seeing it's path the whole way.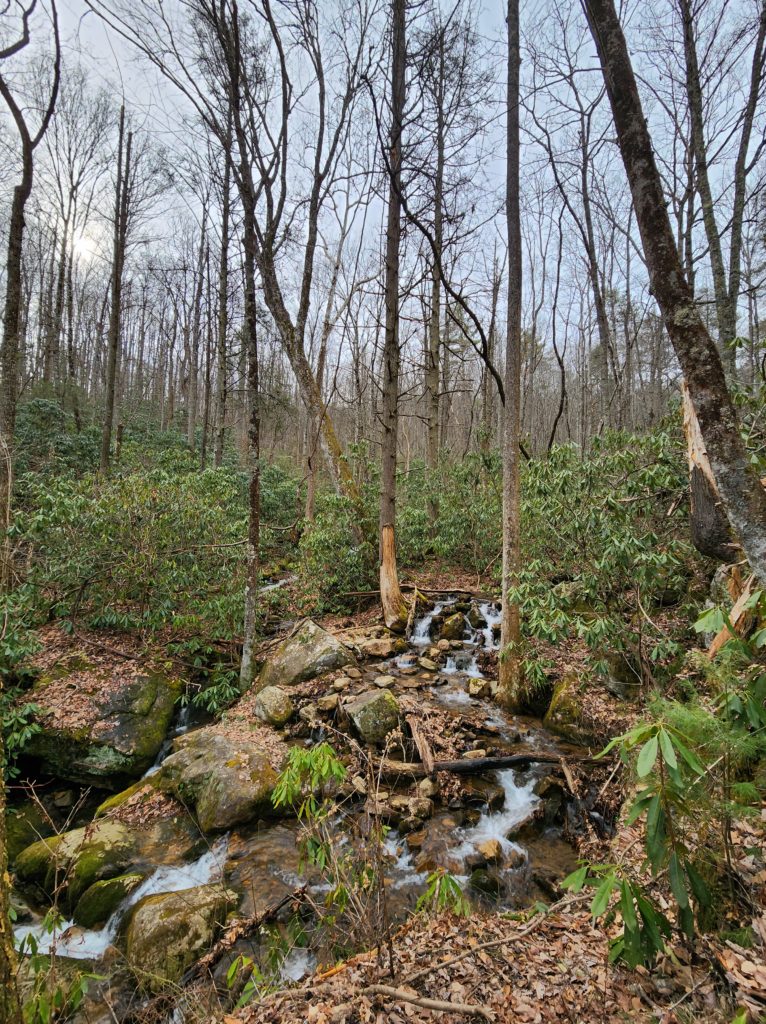 The second waterfall that you come to is a little bit bigger. This one reminded me a bit of the crazy waterslides that you see at waterparks. I wouldn't recommend taking a trip on this one though. The landing wouldn't be so pleasant.
As you start down the steps, look to your right and you'll see a small path that will lead you to the third waterfall.
As we were going down this path, there was a couple coming up, carrying something that I can safely say I've never seen on a trail before – a cat! She had her own little backpack, with a zippered cover that they open when it's safe for her to peek out.
Her owners said that they take her on all of their adventures like this and she loves it. I was amazed that she wouldn't just run away, but they said she's content just going along for the ride, and has never offered to jump out. I guess she's happy to be included, like most of us are. And really, she's got the best end of the deal…being carried in and out. Haha.
The waterfall below was like a little oasis. It's surrounded on the sides by large rocks, and rhododendron bushes are growing over the top. The water was shallow enough that we could wade around and get our feet wet without having to get too far in. You can actually walk right up to, and around the waterfall here as well.
Because of the way the earth hugs around it, the waterfall sounded like it was in a cave. It was so peaceful that we sat here for a while and just took it all in.
Once our feet dried, we put our shoes back on and made our way on down to Blue Hole Falls.
Nature never fails to amaze me with its colors, textures, and beauty. The water was super clear below the waterfall.
It looks like there is one more waterfall after Blue Hole Falls, but from what I saw, there's not an actual path to get to it. Unless you can come in from below and see it that way.
It's something we wanted to explore, but the sun was getting lower in the sky, and we wanted to grab dinner before too late. So, we put a pin in that adventure and headed back to the car.
On our way out, we passed by Barker's Drive-Thru (1022 TN-91) and decided to stop and get a snack. And I'm SO glad we did.
This is another one of those hole-in-the-wall places that ended up being really good. They don't have it all the time, but if you can get their strawberry cake I highly recommend it. It's their version of strawberry shortcake and it's delicious! Strawberry cake, vanilla soft serve ice cream, and strawberry glaze with real strawberries in it. Yum-O!!!
They also have a pretty wide variety of other food, so there's something for almost everyone.
Blue Hole Falls in Elizabethton would make a nice addition to your trip if you come to see the rhododendrons at Roan Mountain State Park in June, or if you come to hike other places in this area.
The two waterfalls that come before it are proof positive to me, that a waterfall doesn't have to be the biggest, widest, or fastest flowing to be beautiful. Not that I don't also want to see the big waterfalls too, but I guess it's a lot like life in general – if we take time to appreciate the small things, that we often overlook entirely, it just adds to our appreciation and awe of the bigger things.
This is why it's always been just as important to me to seek out the beauty that's close to home, as it has to travel far and wide. It doesn't seem as exciting on the surface, but you never know what you're going to find. Even if you've lived in an area for years, there are still likely things within a couple hours of where you are that are worth exploring. If nothing else, you can go back to some of the places that you've already been and see how they change each season or with the time of day.
If you're interested in planning more fun excursions in and around Elizabethton, TN, check out these blog posts as well:
Roan Mountain State Park, Laurel Falls, and Sycamore Shoals State Park. Being part of the Cherokee National Forest, this area has so many options of things to do.
If you do visit any of these places, I'd love to see your pictures as well. You can tag me on Instagram – @thenovelturtle – so I'll be sure to see them. And/or, you can let me know some of the other places that I need to visit as well.